The Thomas Fire has affected a great deal of our community.  Many have suffered emotional fear, anxiety and continuing emotional problems.  This is not unusual when a person is forced out of their home on short notice and have to live with the noise, dust, and inconvenience of reconstruction in your neighborhood.
Claims for emotional distress, personal injuries, and other non-economic damages are recoverable.  Many have signed up for our services, and their rights are protected from the statute of limitations defeating their claims.  However, these claims will be barred by the statute of limitations unless a case is timely filed on your behalf.  Other property damage claims may be available until 2020, but claims for emotional distress must expire on December 3, 2019.
Prompt action is required.  Please contact one of our lawyers to receive advice and possible representation.
Ventura County Fire Protection District and Cal Fire have released their report confirming that Edison's lines were responsible for both ignition points, Anlauf Canyon and Koenigstein Road in regards to the Thomas Fire. Click the photo to read the VC Star press release.
If you would like a copy of the Investigation report, please click here to download the report.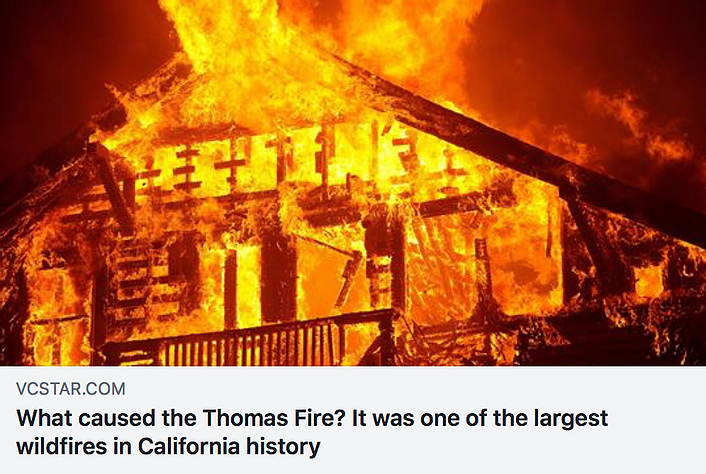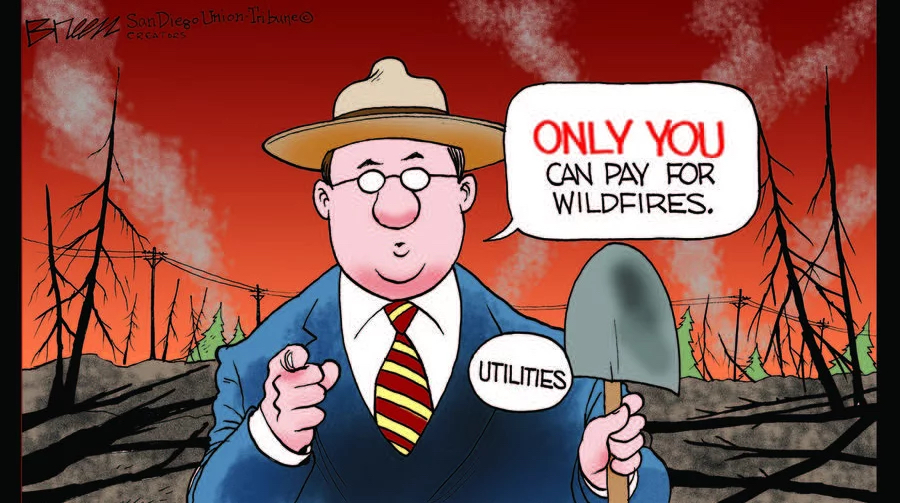 OWNERS OF BURNED PROPERTIES URGED TO SIGN UP FOR FIRE DEBRIS REMOVAL AHEAD OF JAN. 31 DEADLINE TO AVOID STEEP COSTS
The City of Malibu urges all homeowners whose properties burned in the Woolsey Fire to opt-in to the state fire debris removal program, or to opt-out and sign up for the local debris removal program. The deadline for both programs is January 31. 
To date, only 30% of the nearly 500 properties in Malibu that were burned in the Woolsey Fire have signed up for fire debris removal.
The deadline for Woolsey Fire debris removal, established in the emergency declaration by the County of Los Angeles on November 9, 2018, was set at March 15, 2019. Failure to comply will deem the property a public nuisance and will be subject to summary abatement proceedings to have the property cleared of the fire debris. There is no monetary penalty, however the cost of the debris removal will be charged to the property owner as a lien on the property. That could cost the property owner at minimum $100,000 and possibly much more. All of these actions are set by the County of Los Angeles.
For information on how to opt-in for the state sponsored program or sign up for the local program, visit the City Debris Removal Page at https://www.malibucity.org/debris.
The state program is a partnership with County of Los Angeles and the California Governor's Office of Emergency Services (CalOES) and other federal and state agencies in a joint program to facilitate the safe removal and disposal of fire debris and ash, at no out-of-pocket cost to the homeowner. To obtain this service, a homeowner must fill out a Right of Entry (ROE) form allowing these agencies access to their property. 
To get in-person assistance with signing up for debris removal, residents may also visit LA County's newly opened Debris Removal Operations Center (DROC), located at 26610 Agoura Road, Calabasas (near the 101 Fwy and Las Virgenes Rd) Mondays through Fridays, 8:00 AM to 5:00 PM and Saturdays 9:00 AM to 12:00 PM. At the DROC, residents can ask questions and get guidance about fire debris removal, learn how the process works, what the next steps are, and get help in filling out the applications.
Residents can also get in-person assistance at Malibu City Hall (23825 Stuart Ranch Rd., Malibu CA 90265). LA County Public Works has a subject matter expert staffing an assistance desk Monday through Friday from 9:00 AM to 3:00 PM. City Hall can be reached by phone at 310-456-2489.
To get information about fire debris removal or assistance with applying over the phone, please call LA County's Woolsey Fire Recovery Hotline at 626-979-5370.

California utility equipment sparked more than 2,000 fires in over 3 years
Los Angeles Times
Taryn Luna - January 28, 2019
SACRAMENTO — Equipment owned by California's three largest utilities ignited more than 2,000 fires in 3 1/2 years — a time span in which state regulators cited and fined the companies nine times for electrical safety violations.
How the state regulates utilities is under growing scrutiny following unprecedented wildfires suspected to have been caused by power line issues, blazes that have destroyed thousands of homes and killed dozens of people.
Lacking the manpower and sophisticated technology necessary to monitor more than 250,000 miles of power lines across the state, regulators rely on something of an honor system, with utilities responsible for ensuring all trees and vegetation are cut back far enough from electrical equipment before the onset of dry, high-fire danger conditions.
Destructive wildfires in Paradise, wine country, Ventura County and other areas have prompted California lawmakers to consider new ways to improve regulatory oversight and hold utilities more accountable for prevention.
The California Public Utilities Commission has never fined an electrical utility company for failing to meet safety standards before a wildfire strikes. Instead, the agency fines the utilities for violations after investigations into fires find wrongdoing — and the process can drag on for years.
"The CPUC oversight of investor-owned utilities to prevent electrical or utility-caused wildfires is devastatingly absent," said John Fiske, a lawyer who represents wildfire victims. "When you're looking at areas that look like they've been bombed in a war zone, and to know that can be prevented with enforcement and oversight, it's widely upsetting."
Investor-owned utilities are required to file annual reports with state regulators detailing even the smallest of spot fires linked to electrical equipment. Most of the blazes are less than 10 acres in size. And many of the most destructive wildfires in recent years are not included in the data because utilities are hesitant to tie their equipment to costly blazes before state investigations conclude.
Pacific Gas & Electric, the state's largest utility providing electricity from Eureka to Bakersfield, reported 1,552 equipment-related fires from June 2014 through the end of 2017. Southern California Edison, the electricity supplier for 15 million people mostly south of Fresno County, reported 347 fires in that time. Serving a 4,100-square-mile area from San Clemente to the Mexican border, San Diego Gas & Electric disclosed 115 fires in the time period.

Edison claims County liable in debris flow counter-suit
Santa Barbara Independent
Jean Yamamura - January 28, 2019 
SACRAMENTO —
After Santa Barbara County and others sued Southern California Edison in July over the Thomas Fire and debris flow, last Friday Edison counter-sued, claiming the public agencies should have done more to prevent the muddy devastation since they'd known of the dangers for weeks, if not decades. Not only that, but if Edison is found liable to individuals affected by the debris flow, it claims the public entities must also pay. According to the cross-complaint, Edison faces more than 75 lawsuits from the rainstorm that brought devastation down on Montecito on January 9, 2018, after 281,000 mountainous acres burned in December 2017.
To serve the allegation of foreknowledge, the cross-complaint reviews Montecito's history of debris flows, reaching back through millennia and the creation of Montecito's alluvial fans. It summarizes the cycle of fire and flood of the 1964 Coyote and 1971 Romero fires ​— ​and emergency director Robert Lewin's inclusion of them in a presentation to county supervisors six days before the debris flow ​— ​and Edison's attorneys, Hueston Hennigan of Los Angeles, illustrate their point with descriptions of "20-foot walls of water, mud, boulders and trees moving down the channels at approximately 15 miles per hour" from news articles by Melinda Burns (Independent and other publications).
Edison's attorneys charge that the county, City of Santa Barbara, County Flood Control District, Caltrans, and Montecito Water District were themselves negligent in their actions before the debris flow. The county allowed development in flood zones, Edison asserted, using aerial photos from 1927, 1965, and 1975 to demonstrate how buildings and roads replaced agricultural lands, placing people and homes in harm's way.
The Santa Monica Creek Debris Basin above Carpinteria is cited by Edison as a correctly sized basin that prevented catastrophe in Carpinteria. The debris basins at Cold Springs, Montecito Creek, San Ysidro Creek, and Romero Creek not only were too small but also had not been entirely emptied, the attorneys claimed, citing Joe Mozingo's report in the Los Angeles Times a month earlier, the result of eight months of research. It was a situation county flood control officials had known for at least 50 years, the cross-complaint states. It compares Ventura County's standard for the size of debris basins to Santa Barbara's, alleging that Santa Barbara has "no clear specifications or criteria for building or maintaining debris basins." If the county had used Ventura's criteria, Edison alleges, some debris basins in Montecito would have been 44 times larger.
Edison also claims the county produced "inadequate and flawed hazard warnings" that left residents unaware of their risks. It pointed to a topographic map that "highlighted with almost surgical precision" areas along creeks that would flood in a heavy storm. "It ultimately proved remarkably accurate" but was "only briefly available to the public" before being replaced by the county evacuation map, citing stories by Tyler Hayden in the Independent. "For no apparent, scientifically sound reason," the cross-complaint alleges, the county chose State Highway 192 as the dividing line for mandatory and voluntary evacuations. The cross-complaint claimed people on the mandatory side "often heeded" the evacuation notice, but "of the 23 people who perished, 19 resided in the voluntary" zone. "The County has publicly admitted these grossly negligent errors," Edison charges; further, "the warnings that did come were inadequate and ill-designed to explain what residents needed to do to stay safe."
The cross-complaint claims that Caltrans built bridges and culverts that were too small for debris flows past and present, leading to overflows on January 9. It cites the City of Santa Barbara for inadequate flood mapping of the North Jameson Lane and Olive Mill Road nexus; Montecito Water District is accused of releasing nine million gallons of water, a claim Montecito Water disputed when it was first in the news, giving a précis of its broken pipes and stating 5.8 million gallons leaked slowly over a wide area over 11 hours.
Neither the county nor the city had yet been served with the cross-complaint, said County Counsel Mike Ghizzoni and Deputy City Attorney Tom Shapiro on Tuesday. Scott Summy and John Fiske of Baron & Budd in Solana Beach, California, are attorneys for the city and county and filed a "master complaint" in July 2018. In it they enumerate the lives and structures lost, alleging that Edison was at fault for causing the Thomas Fire, which sparked during high-fire conditions of dry heat and extreme winds, and the subsequent flood in Montecito. In addition to failing to maintain fire breaks around its poles and failing to keep up with the maintenance of the poles, the complaint charges that Edison had a program to turn the power off during high-fire conditions, but did not in this instance. The list of losses to the public entities runs from fire-suppression and law-enforcement costs to road, sewer-system, and tax losses and more. The sum would be determined at trial, and a jury has been requested.
Firefighters' fateful choices: how the Woolsey fire became an unstoppable monster
Los Angeles Times
Jaclyn Cosgrove - January 6, 2019
It was clear from the beginning that the Woolsey fire had the potential to be a monster.
It broke out mid-afternoon Nov. 8 on Boeing property near the Santa Susana Pass, fueled by strengthening winds and burning toward populated areas.
But during the critical first hours, the Woolsey fire took second priority.
Ventura County firefighters were already engaged in a pitched battle with another blaze, called the Hill fire, about 15 miles to the west that had jumped the 101 Freeway and was threatening hundreds of homes and businesses.
The Woolsey fire was growing but still far enough from subdivisions that it got fewer resources from Ventura County. Neighboring fire agencies sent some help, but it would take hours before they launched an all-out attack at the fire lines.
These turned out to be fateful choices in what would become the most destructive fire in Los Angeles and Ventura county history.
A Times review of hundreds of pages of public records and several hours of radio transmissions shows that first responders on the front lines of the Woolsey fire struggled during those first critical hours, stymied by communication breakdowns and a scarcity of air tanker support, equipment and firefighters.
Los Angeles County Fire Department sent some firefighters to the front lines but decided early on to deploy dozens more several miles away in the Agoura Hills area, according to interviews, incident logs and planning reports obtained under the California Public Records Act.
L.A. County Fire Capt. Tony Imbrenda said the department knew the fire was headed toward L.A. County and staged four strike teams — 20 engines and 88 firefighters total — in Agoura Hills to assess how the fire would affect homes and businesses once it reached the area.
Imbrenda said the department didn't send the strike teams, each comprising five engines and 22 firefighters, directly to the Woolsey fire line "because the fire hadn't crossed into L.A. County yet. These resources were all set up to protect L.A. County."
Imbrenda said sending the strike teams to the fire line earlier would not have made a difference. "There was no way, no engine, no apparatus, no aircraft in this world that could have possibly stopped that fire from making it to L.A. County," he said.
We are a proud sponsor of the 1 year Thomas Fire remembrance concert in Ojai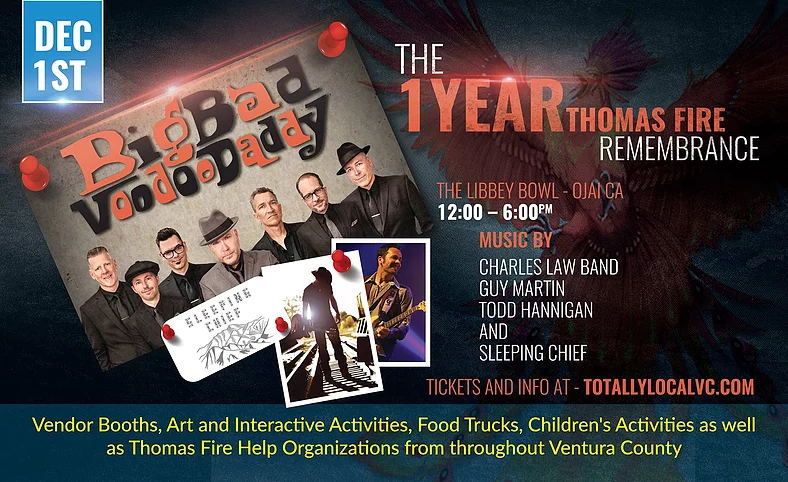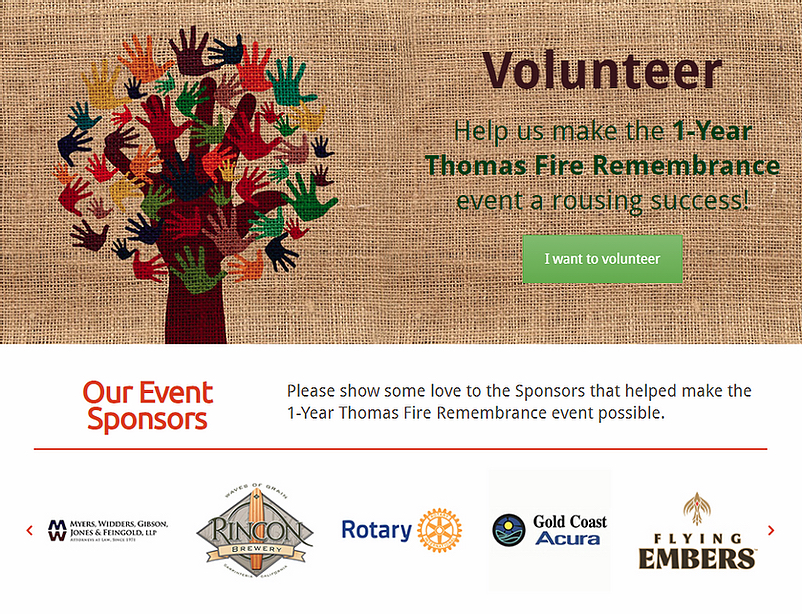 Ventura County Man sues Edison alleging negligence started the Woolsey Fire
Megan Diskin Ventura County Star
November 19, 2018
A Ventura County man has sued Southern California Edison, claiming the utility company's alleged negligence caused the Woolsey Fire that destroyed his home.
The suit, filed Thursday, alleges the Woolsey Fire ignited underneath Edison-owned power lines on the Rocketdyne facility near Simi Valley where authorities first reported flames at 2:24 p.m. Nov. 8. Furthermore, Edison reported an outage two minutes beforehand at its Big Rock circuit out of the Chatsworth Substation located on the Rocketdyne facility, according to the complaint filed in Los Angeles County Superior Court.
The suit also alleges the fire started under the same conditions as the Thomas Fire nearly a year ago. Last month Edison admitted its equipment was associated with one of the blaze's ignition points.
"Despite this knowledge, SCE failed to take adequate precautions to prevent its equipment from sparking the Woolsey Fire," the complaint alleges.
Steven Conroy, a spokesman for Edison, said he could not comment on the pending litigation.
Conroy said Monday that he had no further information to add about the outage at the Big Rock circuit. Edison notified the California Public Utilities Commission of the relay later that day, as it is required to do, Conroy said.
Woolsey Fire: Chatsworth substation outage occurred minutes before blaze was reported, SoCal Edison says
Chatsworth, Los Angeles
ABC7.com Staff and The Associated Press
November 12, 2018
The cause of the 91,572-acre Woolsey Fire remained under investigation Monday but Southern California Edison reported to a state agency that there was an outage on an electrical circuit near where it started as Santa Ana winds blew through the region.

SoCal Edison said the report was submitted to the California Public Utilities Commission although there was no indication from fire officials that its equipment may have been involved. The report said the fire was reported around 2:24 p.m. Thursday, two minutes after the outage at Edison's Chatsworth substation.

A spokesperson for the commission said the report will be included in the agency's "investigations to assess the compliance of electric facilities with applicable rules and regulations in fire impacted areas."

As of Monday afternoon, 3,764 Edison customers were without power in Los Angeles and Ventura counties, nearly all of those due to the Woolsey Fire.

"Our crews have been granted limited access in some areas and are working to restore power as conditions safely allow," the utility said in a statement to ABC7, noting that the official cause of the blaze was unknown.

Asked about the Edison report, Ventura County Fire Chief Mark Lorenzen said he had not heard about it. "It wouldn't surprise me" if it turns out that winds caused equipment failure that sparked a fire, he said.
​At a Monday morning press conference, Los Angeles County Fire Chief Daryl Osby responded to a question about a possible connection between the electrical outage and the fire.

"The cause of this incident is still under investigation," Osby said, "and once that becomes known we will share that with the public."
So Cal Edison admits its equipment helped start Thomas Fire
ABC7.com Staff
October 30
Southern California Edison is publicly acknowledging that its equipment was responsible for contributing to the start of the massive Thomas Fire, which burned more than 280,000 acres in Ventura and Santa Barbara counties.
The company acknowledged in a financial filing Tuesday that its equipment was responsible for one of at least two origin points of the fire.
The fire started on Dec. 4, 2017 and raged for more than a month, leading to the evacuation of more than 100,000 people before it was contained around Jan. 12, 2018. It is considered one of the largest wildfires in modern California history. It destroyed more than 1,000 homes and other buildings.
SCE says its electrical equipment sparked a fire near Koenigstein Road in Santa Paula. Another ignition point was in the Anlauf Canyon area of Ventura County. The two ignitions later joined to create the massive blaze. Edison says it has not determined if its equipment was also responsible for the Anlauf Canyon ignition.
"Witnesses have reported that a fire ignited along Koenigstein Road near an SCE power pole, and SCE believes that its equipment was associated with this ignition," the company said.
"SCE is continuing to analyze the progression of the fire from the Koenigstein Road ignition point and the extent of damages that may be attributable to that ignition. SCE has not determined whether the Anlauf Canyon area ignition involved SCE equipment."
The company also said CalFire has some of the utility's equipment that was removed from the area of both ignition points and the company will not be able to further analyze what happened until it is able to access that equipment.
Southern California Edison is already facing lawsuits for its potential role in starting the Thomas Fire.
So Cal Edison admits its equipment helped start Thomas Fire
2nd Story Addition - The Thomas Fire Rebuild Overlay sets specific standards for the reconstruction of previous one-story and two-story homes. The Overlay did not anticipate a homeowner proposing to rebuild a previous one-story home with a new two-story home. Therefore, such a proposal would require a regular Variance application fee of more than $10,000 and a non-expedited hearing before the Planning Commission (which could take up to six months). However, the City Council's intent was to encourage homeowners who lost their homes to the Thomas Fire to build back better, even to build their "dream" home. Therefore, staff is recommending an amendment to the Thomas Fire Rebuild Overlay to allow a previous one-story home to be proposed as a two-story home provided under the Director's Substantial Consistency Determination if the rebuild property is determined to have no impact on views from an immediately adjacent property or the rebuild owner collects 100% support from adjacent property owners.
Legislature enacts home insurance reforms without relief for 2017 wildfire victims
BILL SWINDELL
THE PRESS DEMOCRAT  SEPTEMBER 4, 2018
SACRAMENTO -
The state Legislature has approved additional consumer protections for homeowner insurance to help Californians in the future as they grapple with greater statewide wildfire risks.
The package of bills passed both chambers prior to summer adjournment on Saturday, despite resistance from the politically powerful property and casualty insurance industry. Most notably, industry lobbyists were able to thwart any measure that would have provided retroactive relief to help policyholders for the almost 6,200 North Bay homes lost in last year's wildfires. The blazes triggered about $10 billion in home insurance claims.
"These bills will help consumers trying to get back on their feet after devastating wildfires," state Insurance Commissioner Dave Jones said in a statement.
Many local homeowners found themselves underinsured — some as much as hundreds of thousands of dollars — in the aftermath of the fires. Others were burdened by onerous requirements to itemize all of their personal-property losses in order to obtain their full coverage reimbursement.
One consumer advocate said the insurance package was the most robust legislative effort to help homeowners since laws enacted in the aftermath of massive wildfires in San Diego County in 2003.
​"This is a much more productive outcome than I thought we were going to get," said Amy Bach, executive director of United Policyholders, a San Francisco-based advocacy group. "The Legislature somewhat redeemed themselves here."
A key bill by state Sen. Bill Dodd, D-Napa, would allow policyholders to combine for some coverage areas — primary dwelling and other structures — to go toward rebuilding the main structure. Policyholders would qualify for that option only if they are underinsured in rebuilding the primary dwelling, suffered a total loss, and the event was related to a declared state of emergency by Gov. Jerry Brown. The bill's language was narrowed greatly as it moved through the Legislature at the insistence of the industry.
lawmakers approve bill that makes pg&e, ratepayers share wildfire costs
GUY KOVNER
THE PRESS DEMOCRAT  SEPTEMBER 1, 2018
SACRAMENTO -
The wildfires that brought horror to Northern California nearly a year ago led to some unusual political alliances and rifts among lawmakers as their response came to a momentous vote on a controversial measure that holds both PG&E and ratepayers responsible for multibillion-dollar damages.
Approval by the Assembly and Senate late Friday night — on the final day of the legislative session — came nearly 11 months after the historic wildfires that took 44 lives and destroyed 6,400 homes in Northern California last October.
There were Democrats and Republicans on both sides of the vote in each house, with some lawmakers who rarely agree in concert on the measure, while 24 legislators declined to cast a vote.
State Sen. Bill Dodd, D-Napa, who co-chaired the special 10-member committee that crafted the wildfire response bill, said Saturday it got "more attention, more hearings than any other legislative measure this year" and there were about 2,500 bills introduced.
Dodd, whose district was hard hit by the October wildfires, said he was "totally confident" ahead of the votes that the bill would pass in the Senate, which it did handily, 29-4, with seven members not voting. Three of the four no votes came from Republicans.
The Assembly vote, held after 11 p.m. following the Senate action, came out 49-14, with 17 members not voting. Eight of the no votes came from Democrats.
"Natural disasters don't discriminate against Republicans or Democrats," Dodd said. "We're all in this together."
One surprise of the evening, he said, was Tehama Republican Sen. Jim Nielsen's passionate call for support of the bill, SB 901, spearheaded by Dodd.
Nielsen, regarded as the dean of the Senate, took the floor just after Dodd had introduced his bill and recalled the obliteration of Keswick, a small community between Redding and Shasta, by the Carr fire.
"It's gone," he said, noting the fire tornado that killed a firefighter in Redding and made cars "literally explode."
Nielsen, a farmer who has served more than 20 years in the Legislature, blamed the cataclysmic fires on "40 years of neglect" in managing state woodlands, allowing tons of fuel to accumulate.
"That was amazing to me," Dodd said of Nielsen's show of support. The districts of the two legislators adjoin, but "we don't typically agree," Dodd said.
A similar inter-party alliance came about between Assemblyman Jim Wood, D-Santa Rosa, and his Republican colleague, Brian Dahle of Bieber in Lassen County, whose districts abut one another and also served together on the conference committee that hatched the bill in a month.
"This is the kind of bill that resonates," Wood said Saturday. "Fire doesn't know political boundaries."
Support by Dahle, the Assembly Republican leader, brought other GOP members along, Wood said, calling Dahle "a commonsense farmer" and a "reasonable guy."
Wood said he thinks the chances are "very high" that Gov. Jerry Brown will sign the bill, based on his meeting, along with three other Democrats, with the governor on Monday and two subsequent meetings with Brown staff members.
Brown has until Sept. 30 to sign the last batch of bills he will receive before leaving office at the end of the year.
The bill's most controversial provision allows PG&E to lean on ratepayers to shoulder some of the multibillion-dollar cost of last year's wildfires — provided it opens its books for an examination by regulators, referred to as a stress test.
The California Public Utilities Commission would determine how much the company can pay without harming ratepayers or diminishing its ability to provide electricity.
For any fire costs deemed reasonable by the commission, PG&E or any other utility may apply for state-sponsored funding, including recovery bonds that would be repaid by ratepayers through charges on their bills.
The average residential customer would pay about $5 a year for every billion dollars in financing over the life of the bond, PG&E said.
On the floor Friday night, Dodd said the bill was "necessary to protect our communities from monstrous wildfires in the future, and the loss of property, and even the loss of life."
"We have done everything we could to protect victims and ratepayers in this package," he said.
The strongest criticism came from Sen. Jerry Hill, D-San Mateo, who said PG&E management has "focused on shareholders' profits over safety, adding that "this bill rewards their bad behavior."
"Under this bill the ratepayers will pay for a company's neglect," said Hill, who represents the area where a PG&E gas pipeline explosion killed eight people in 2010.
Hill was the lone Democrat in the Senate who voted against the bill.
On the Assembly side, Wood said the bill was not perfect but was "the best we could do under the circumstances."
Wood was a force behind another part of the plan, which calls for spending $1 billion over five years on vegetation management and fuel reduction. He touted it "one of the largest commitments to fire prevention in the state's history."
Assemblyman Marc Levine, D-San Rafael, one of the eight Assembly Democrats voting against the bill, said it "leaves utility ratepayers on the hook for huge costs due largely to utility negligence."
"Members, the word negligence doesn't even appear in the bill," he said.
Thomas fire victims file lawsuit against farmers insurance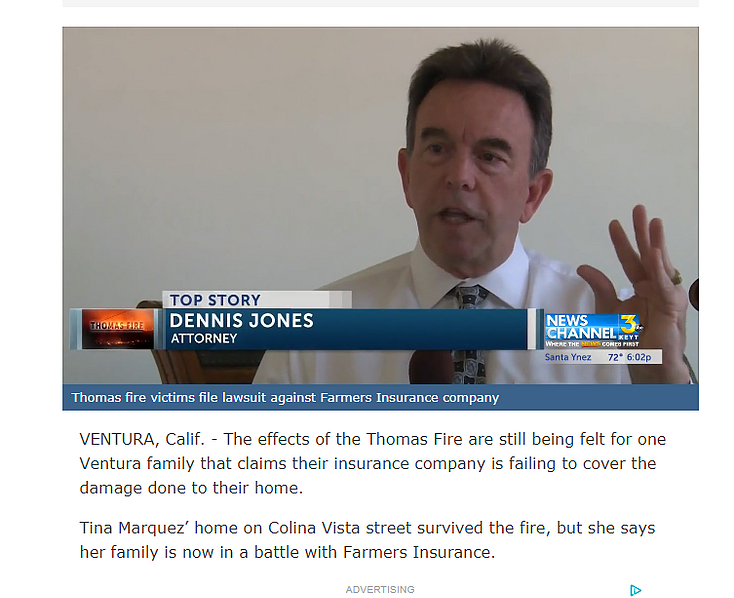 ALEX BISTON
KEYT NEWS  AUGUST 30, 2018
VENTURA, Calif. - The effects of the Thomas Fire are still being felt for one Ventura family that claims their insurance company is failing to cover the damage done to their home.
Tina Marquez' home on Colina Vista street survived the fire, but she says her family is now in a battle with Farmers Insurance.
"The overall sentiment from our insurance company was that we don't really care, you'll just deal with it…it is what it is and we don't owe you anything," said Marquez.
Marquez and her Husband, Sean, are the first Thomas Fire victims to file a bad faith lawsuit against an insurance company. After they noticed their home suffered internal and external damage, they filed a claim with Farmers Insurance.
She says the company offered her $2,600 to clean the home but her family has spent more than $15,000 to make their home livable again.
"It's not environmentally clean, we have five air purifiers, which we have to clean every two weeks and one air scrubber," said Marquez.
"Every once in a while he will wake up in the middle of the night and wake me up and say, 'Mommy I can't breathe,'" said Marquez.
In frustration, the family decided to file suit. They claim Farmers Insurance didn't pay enough for the damage and acted in bad faith.
"What Farmers is doing is they are trying to draw a distinction between damage caused by a flame or from heat," said Attorney, Dennis Jones. "They are trying to distinguish that between what was caused by soot, ash, smoke and char, and we believe that is a distinction they are not allowed to draw under California law."
We reached out to Farmers Insurance for a statement. A spokeswoman says, "We decline comment on matters in litigation."
Marquez says she is happy to have her home still standing, but worried for the long-term health effects.
"We have been here all this time in an environment that is not clean," said Marquez. "How is that affecting our health right now? What is that going to mean in the future?"
​
California Fire Lawyers and Myers Widders officially files suit in VCSC. Poindexter and Company v. Southern California Edison